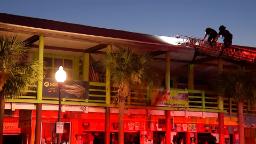 CNN
 — 

A Florida wildlife center was badly damaged and "nearly all" of its animals were killed in an overnight fire, the Pinellas County Sheriff's Office and the wildlife center said.
Over 250 animals "including lizards, small mammals, amphibians, turtles and tortoises, fresh and saltwater marine life, and of course …. alligators," were housed at the Alligator & Wildlife Discovery Center in Madeira Beach, its website states.
The animals came from several sources, according to the center, including the Florida Fish and Wildlife Conservation Commission, the Society for the Prevention of Cruelty to Animals and individual owners "who can no longer care for their pets," the center said.
Pinellas County deputies on foot patrol at the John's Pass Village Boardwalk saw flames coming from a building around 3 a.m. Thursday and requested assistance from the fire department, authorities said.
The wildlife center, as well as surrounding businesses, sustained "major damage," Cpl. Dave Brenn of the sheriff's office said.
"We suffered from a tragic fire last night. Nearly all of the animals are gone. We are devastated," the center said in a Facebook post Thursday morning.
The cause of the fire is under investigation, the sheriff's office said.
Madeira Beach is about 27 miles southwest of Tampa.