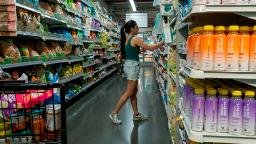 New York
CNN
 — 

Last week would have been an ideal week to go on vacation if you're an economist or, ahem, an economics reporter.
That's because a boatload of new data was released that provided a lot more clarity on the state of the US economy. The new pieces of data, along with other recent metrics, will likely dominate the conversations that Federal Reserve officials have when they meet later this month for their monetary policy meeting.
Speaking of which, we heard from several of them last week.
A common message they had was the need to continue raising interest rates to get inflation closer to the central bank's 2% target. The Fed's preferred gauge of inflation, the Personal Consumption Expenditures index, showed that inflation was double the target in May (more on inflation shortly).
Oh, and don't hold your breath for rate cuts. For Fed officials, it's the equivalent of buying winter clothes in the summer. Sure, planning ahead is great, but it's so hard to think about wearing a winter coat when it's 90+ degrees out.
Here's what else we learned about the economy last week:
To quote Michael Scott in a favorite scene from "The Office" — "Oh my God! Okay, it's happening! Everybody stay calm."
Inflation is really cooling off, according to two sets of data released last week.
Wednesday's Consumer Price Index showed that annual inflation slowed from 4% to 3% in June, the lowest level since March 2021.
Then on Thursday came Producer Price Index data, which measures the average change in prices that businesses pay to suppliers. That data showed annual wholesale inflation cooled last month to the lowest level in nearly three years.
But Fed officials are taking the data with a grain of salt.
"There is no doubt that the good news on inflation is good news indeed," San Francisco Federal Reserve Bank President Mary Daly said on Thursday. But she cautioned, "It's really too early to declare victory on inflation."
As my fellow economics reporter Alicia Wallace wrote, "the devil remains in the details."
"The annual CPI rate is, in part, benefiting from base effects, when comparisons are made to the prior year. And June of last year was monumental: Annual inflation soared to 9.1%, the highest in more than 40 years largely because of record-high energy costs," she wrote.
Even after taking those base effects into account, inflation is still piping hot across several cities in the country.
And some prices aren't budging as much as others. For instance, gas prices are down almost 30% compared to last year but services like tax prep and haircuts, a big contributing factor to the overall inflation, are up 5.6% from a year ago.
For a while, it looked like mortgage rates peaked at 7.08%, the highest level since November.
But average 30-year fixed mortgage rates inched their way up to 6.96% in the week ending July 13, according to Freddie Mac data released Thursday.
Traditionally higher mortgage rates have caused home prices to decline. But that's not happening just yet for a variety of reasons.
The slowing pace of price increases is leaving consumers feeling a lot more optimistic about the economy.
Consumer sentiment data from the University of Michigan saw the biggest monthly jump in July since 2006. The index is now at its highest level since September 2021.
So it doesn't exactly sound like people believe a recession is brewing. That said, people were far more optimistic about the economic outlook before the pandemic began, and they haven't even been close to that level since.
All told, it's a confusing time for the economy. Even Jamie Dimon, CEO of the nation's largest bank, JPMorgan Chase, can't get a good read on what's to come.
Asked by CNN if the inflation cooldown has made him more optimistic about avoiding a recession, Dimon said, "I don't know if it's going to lead to a soft landing, a mild recession or a hard recession."
— CNN's Bryan Mena and Matt Egan contributed to this report.