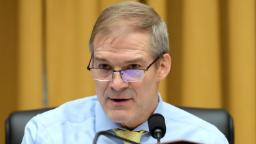 CNN
 — 

House Judiciary Chairman Jim Jordan of Ohio is calling on Congress to stop funding Department of Justice investigations into elected officials, political candidates and their families until a new policy for how they are managed is developed.
The a far-fetched ask from a key Donald Trump ally would indirectly vault the federal investigations of the former president into an already messy spending fight.
In a letter to House Appropriations Chairwoman Kay Granger, Jordan, who has used his powerful position as committee chairman to criticize the DOJ for its investigations into former President Donald Trump, is calling on Congress to stop funding what he describes as "politically sensitive" investigations until the DOJ "establishes a policy requiring non-partisan career staff to oversee such investigations."
Jordan classified politically sensitive investigations as those that target "elected officials and their family members, political candidates and their family members, political organizations, religious organizations, and members of the media."
The letter from Jordan to Granger obtained by CNN comes after Jordan deployed his staff to work with Granger's team behind the scenes for months and builds on momentum from House Republicans who have vowed to limit funding to the FBI and DOJ.
Beyond political investigations, Jordan laid out a series of dramatic budget cuts and policy changes to federal law enforcement agencies that he wants to see incorporated into this year's spending bills, making the divisive issue over whether to defund or restrict the Department of Justice and FBI a central question House Republicans will have to answer as they try to fund the government by September 30.
Regarding the FBI specifically, Jordan wrote, "We recommend that the appropriations bills eliminate any funding for the FBI that is not absolutely essential for the agency to execute its mission."
That target includes prohibiting funding for a new FBI headquarters in the Washington DC area. Instead, Jordan is asking the Appropriations panel to submit an operational plan to move the headquarters and to consider Huntsville, Alabama as a relocation option.
In a statement, the FBI said, "The fiscal year (FY) 2024 President's Budget includes mission critical resources to equip the FBI to address persistent and evolving threats. Any reductions to the FBI's budget would be detrimental to the support the FBI provides to the American people."
The Ohio Republican, who also chairs an entire subcommittee dedicated to investigating assertions that the FBI and DOJ have become increasingly weaponized against conservatives in recent years, is also seeking revenge on behalf of the individuals who have served as his FBI whistleblowers by calling on the House Appropriations panel to cancel the salaries of any DOJ or FBI employees who have retaliated against a whistleblower. There are already laws in place that protect whistleblowers against retaliation. The first of Jordan's whistleblowers who sat for closed-door interviews with the subcommittee earlier this year, including two of the whistleblowers who testified at a hearing in May, became an early flashpoint in the panel's investigation, with Democrats raising questions about their legitimacy as whistleblowers and the credibility of their testimony.
Jordan is also trying to use the power of the purse to help enforce his oversight efforts by requesting funds to a DOJ immigration court be frozen until he gets answers about the termination of immigration judges. Last year, Jordan launched an investigation into whether the Biden administration terminated federal immigration judges and replaced them with more progressive ones.
His proposals even target the Bureau of Alcohol, Tobacco, Firearms and Explosives for its use of stabilizing braces, which has long faced backlash from Republicans, reprise attacks on the Biden administration's response to school board threats in and list a number of cuts related to the Department of Homeland Security.
This story has been updated with additional developments.