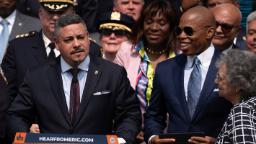 CNN
 — 

New York City has appointed its first Latino police commissioner as authorities work to diversify leadership of the country's largest department and curb the city's crime rate.
Mayor Eric Adams announced Monday that Edward Caban had been promoted to the city's top cop position. Caban, who is of Puerto Rican descent, has served as acting police commissioner since Keechant Sewell resigned in June.
Caban first joined the NYPD in 1991 and was the son of a transit police officer.
Caban was promoted to deputy inspector in 2008 and served as the adjunct of patrol for Brooklyn north where he "oversaw many public safety programs." In 2022, he became NYPD's First Deputy Commissioner.
Adams praised Caban for his success in the department. He credited Caban's leadership for helping with efforts to get "major crimes down in all 68 enforcement zones."
"Commissioner Caban has had a strong hand in this historic achievement and will continue this legacy of success going forward," Adams said.
Caban said in a statement that he was "humbled" to served in this new role.
"The NYPD is the most consequential police department in all of law enforcement," Caban said. "Its storied history is a living legacy of valor, bravery, and sacrifice — of ordinary New Yorkers who did extraordinary things. When a person in need rings the bell, you can always count on the NYPD to answer the call. Together, we will build upon our successes and continue to drive down crime and improve the quality of life in our communities."
Caban's appointment comes as police nationwide have faced scrutiny for profiling and violence against Black and Latino people. In 2021, Latinos accounted for 33.2% of misdemeanor arrests in New York City and 28.9% of the population, according to police data. That same year, Black people in New York City accounted for 20% of the population but also 42% of all misdemeanor arrests, data shows.
Major crimes in New York City rose 22% last year while the number of shootings and murders dropped, the New York Times reported.
Caban's appointment comes as the department also named the first woman of color – Tania Kinsella – to serve as NYC first deputy commissioner. Kinsella is daughter of immigrants from Jamaica and Guyana.
The Legal Aid Society, a social justice law firm in New York City, released a statement Monday saying policing New York City is in "dire need of reform" and that Caban will need to make "significant inroads with the public to improve their trust in the department he's about to lead."
"This starts with acknowledging that law enforcement isn't a panacea for many community issues and that initiatives like the evidence-based CURE Violence model must take precedence over the continued revamping of the racist and fraught policies and practices of yesteryear," Legal Aid Society said in a statement.
The law firm called on Caban to immediately meet with members of the community.