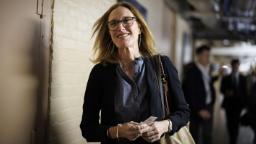 CNN
 — 

White House director of legislative affairs Louisa Terrell, one of President Joe Biden's longest serving aides, is planning to leave the White House at the end of this month, CNN has learned.
Though her public profile is minimal, she has an outsize, behind-the-scenes influence as a native of Delaware who began working for then-Sen. Biden two decades ago on the Senate Judiciary Committee.
"As a U.S. Senator for 36 years, I developed a deep respect and reverence for the United States Congress and its vital institutional role in our democracy. When I was elected President, I knew that no one understood that better – or would be a better partner to my decades-long friends and former colleagues – than Louisa Terrell," said Biden in a statement provided to CNN.
"That's because, for years – as a Senator, as Vice President, as President, and every moment in between – I have relied on Louisa for her wise counsel and her skill. I have relied upon her to reflect my values. And I have relied upon her to deliver for the American people. Every step of the way, that's exactly what she has done," he added.
As the president's point person on Capitol Hill, Terrell leads a team that is his eyes and ears in Congress, playing a critical role in racking up his legislative wins and executive branch and judicial nominations.
"She was indispensable. She was at the center of everything that we did. On legislative wins, nominations, confirmations, legislative strategy. Every part of what we have done in two and a half years that involved Congress she has been at the heart of," said Biden adviser Steve Ricchetti, one of the senior administration officials eager to heap praise on Terrell.
White House chief of staff Jeff Zients, who first met Terrell when they both worked in the Obama White House, said that she was the first person he hired during the post-election transition and called her critical to helping pick and eventually confirm the president's Cabinet.
He said her "superpower" is her emotional intelligence.
"She is so good at identifying the human element in every interaction," Zients told CNN.
"They say you should walk a mile in other people's shoes. Louisa has done marathons in dozens if not hundreds of people's shoes," added Zients in describing the way she listens to and tries to understand lawmakers' points of view during negotiations and strategy sessions.
It is no secret that many of the president's top aides who have been with him for decades are men. Terrell is one of the few women in that orbit and is known to take her role as a mentor and example for younger women very seriously.
In a rare interview late last year, Terrell, whose two children are now in college, said she remembers what it was like working 'round-the-clock hours in politics when her kids were young, and tries to create a work environment that makes it easier for women to thrive.
"I had the job in the Obama administration when my kids were say, like, around 6 and 8 – or 4 and 6. It's all a little bit of a blur," she joked, describing her time after work as "bed, bath and beyond," an entire "second shift" after a full day at the office.
"I look across the White House, the women whose kids are that age, and you really have to (remember) how long their days and their nights are," Terrell said. "And then to think about the kind of performance and the kind of 100% they're giving at the office every day. I have so much gratitude and admiration," she said in December.
Several younger women in the Biden administration made a point of noting that admiration is mutual – that her mentorship has had a huge impact on their lives and careers.
When Terrell first started after law school as a staffer for then-Sen. Biden on the Judiciary Committee, she describes herself at the time as being just a "gal from Delaware," in awe of the experienced legal clerks and seasoned staffers surrounding her. She quickly found her footing and thrived, going on to serve as Biden's deputy chief of staff and later worked in the Obama administration's Office of Legislative Affairs – the very team she now leads.
But Terrell knew Biden well before she worked for him. She was a childhood friend of his late son Beau who would ride her bike to the Biden home in Delaware when she was a young girl.
It is that kind of connection, understanding the Biden sensibility from a young age, that has helped her thrive on his political team in several variations for years.
"He knows my folks and just being connected that way," Terrell said of the president late last year. "You know where the person came from and I think that helps."
"It brings a warmth to the work and I feel very, very lucky about that," she added.
In the first two years of the Biden administration, Democrats controlled both chambers of Congress. It was during that time that the administration racked up legislative wins ranging from the Covid-focused American Rescue Plan Act to the Bipartisan Infrastructure Law and the Inflation Reduction Act.
Corralling a geographically and philosophically diverse Democratic Party on the Hill was not easy, but it was nothing compared with the challenge of running point for the president in Congress since Republicans took the majority in the House. Not only did their legislative agenda change dramatically, so did the GOP dedication to oversight and investigation of the Biden administration.
After the midterm election last year, Terrell talked about the relationships that she and her team had already quietly built with Republicans so that they were not just "parachuting in" to offices of members in leading positions on the other side of the aisle.
Zients, who took over as White House chief of staff from Ron Klain as the House Republicans were taking over, said he relies on Terrell so much that they tend to talk even before they get into the office in the morning and late into the night after he gets home, and that they meet in person at least "five times a day."
In a statement provided to CNN via the White House, Senate Majority Leader Chuck Schumer praised Terrell's "dedication and strategic partnership" as "key to the historic success of this administration and Congressional Democrats."
"She's worked tirelessly to help diversify the federal bench, confirm the president's well qualified and historic nominees, and pass the most aggressive and successful legislative agenda in generations," said Schumer.
House Minority Leader Hakeem Jeffries similarly praised Terrell, telling CNN in a statement: "On behalf of the House Democratic Caucus, we are tremendously grateful to Louisa Terrell for her partnership as we advanced President Biden's historic legislative agenda over the last two years. From the Infrastructure Investment and Jobs Act to the Inflation Reduction Act to averting a catastrophic default on our debt, Louisa has been there with us every step of the way."
Ricchetti, whose time working with Terrell goes back decades, said when she leaves, hers will be "huge, huge shoes to fill" but that "she's earned her chance to spend more time with her family."