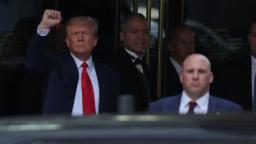 CNN
 — 

Donald Trump is attempting to reverse court rulings in two of the many politically charged cases involving the former president.
Friday, Trump filed a notice that he's appealing a ruling that prevented him from moving the New York criminal case against him involving hush money payments to federal court.
Earlier this month, US District Judge Alvin Hellerstein denied Trump's request to move the state case to federal court after finding the alleged criminal conduct was not related to his role as president. Trump asked for the transfer arguing the allegations involved questions of federal law.
Trump has pleaded not guilty to 34 counts of falsifying business records to conceal the reimbursement of hush money payments made to adult film actress Stormy Daniels. He is set to go to trial in Manhattan in March 2024.
In the ruling, the judge wrote, "The evidence overwhelmingly suggests that the matter was a purely a personal item of the President – a cover-up of an embarrassing event. Hush money paid to an adult film star is not related to a President's official acts."
"Whatever the standard, and whether it is high or low, Trump fails to satisfy it," the judge wrote.
Thursday, Trump launched a Hail Mary bid – relying on the recent report from special counsel John Durham that criticized the FBI's Trump-Russia probe – to revive the sprawling RICO lawsuit he filed against Hillary Clinton, Democratic National Committee, several ex-FBI officials and more than two dozen other people and entities.
The move by US District Judge Donald Middlebrooks to dismiss the Trump lawsuit and to order sanctions against Trump lawyers involved in it was already on appeal at the 11th US Circuit Court of Appeals.
But the Trump team is now attempting a maneuver known as a motion for an indicative ruling, which allows for a trial court to take back jurisdiction of a case that's already on appeal in order to consider new evidence or other issues that hadn't been appropriately resolved.
In a filing with the trial court on Thursday, Trump's lawyers argued that the Durham report "corroborates facts that are key to the plausibility and probability" of the claims the former president was making it in the case.
"Therefore, the introduction of this evidence is likely to change the outcome of this case at every level of the proceedings," the filing said.
Durham's report, released in May, had scathing criticism for how the FBI handled its investigation into the 2016 Trump campaign's Russia campaign, claiming that the agency lacked the evidence to launch a full investigation into Russia's election meddling.
Yet, the Durham probe – which inched along over four years, twice as long as the underlying Russia investigation by special counsel Robert Mueller – fell well short of the hopes of Trump and his allies. Durham secured only one conviction, a guilty plea from a low level FBI agent who admitted to doctoring an email related to the surveillance of an ex-Trump campaign aide, while the other two prosecutions Durham brought in his investigation ended in embarrassing acquittals. Durham's final report also did not recommend any "wholesale changes" to FBI policies for handling politically charged investigations.
In his RICO lawsuit, Trump claimed there was a conspiracy among the Democrats and government officials to fabricate information tying him to Russia in order to undermine his 2016 campaign.
Middlebrooks, in dismissing the case last year, wrote that what the lawsuit "lacks in substance and legal support it seeks to substitute with length, hyperbole, and the settling of scores and grievances." Middlebrooks later ordered sanctions against the Trump attorneys who signed on to the case, concluding that the pleadings "contained factual allegations that were either knowingly false or made in reckless disregard for the truth."