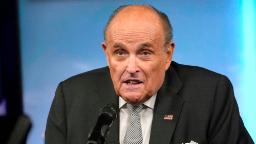 CNN
 — 

A federal judge on Friday demanded an explanation from Rudy Giuliani as to why he conceded in court that he made false and defamatory statements about two Georgia election workers after the 2020 election but hasn't forfeited their lawsuit against him.
It's the latest legal difficulty that Giuliani has faced related to his spreading of disinformation on former President Donald Trump's behalf – and the latest instance of a federal judge considering severe sanctions for Giuliani over the Georgia defamation case.
A loss in the case could have significant implications for Giuliani, especially financially.
In a court filing last month, Giuliani acknowledged that he had made defamatory statements about the election workers, Ruby Freeman and Shaye Moss, though he stopped short of conceding that his statements caused damages to the pair. Giuliani also said in the July filing that he still wanted to argue that his statements about voter fraud in Georgia were protected by free speech.
Giuliani has until Tuesday afternoon to either forfeit the lawsuit, conceding he is liable and opening himself up to pay the ballot-counters' damages, or give Judge Beryl Howell more explanation and appear before her for a hearing in mid-August.
Following Giuliani's concessions, Howell ordered him to pay more of Moss and Freeman's legal fees after previously ordering him to pay them $90,000.
Giuliani also appeared, unnamed, as one of six co-conspirators in the Justice Department's criminal conspiracy allegations against Trump this week. Prosecutors described co-conspirator 1 as an "attorney who was willing to spread knowingly false claims and pursue strategies that (Trump's) 2020 re-election campaign attorneys would not." The indictment also includes quotes that match quotes from Giuliani's call intended for GOP Sen. Tommy Tuberville as the US Capitol riot unfolded on January 6, 2021.
The former New York City mayor and his attorney, Robert Costello, met with special counsel Jack Smith's investigators in June, CNN exclusively reported at the time, though it is unclear what investigators' questions focused on during the meeting. Giuliani's political adviser Ted Goodman told CNN that the interview was voluntary.
Giuliani hasn't been charged but the special counsel's office has given signals that it is still investigating, including by setting an interview with Bernie Kerik, a close Giuliani associate.